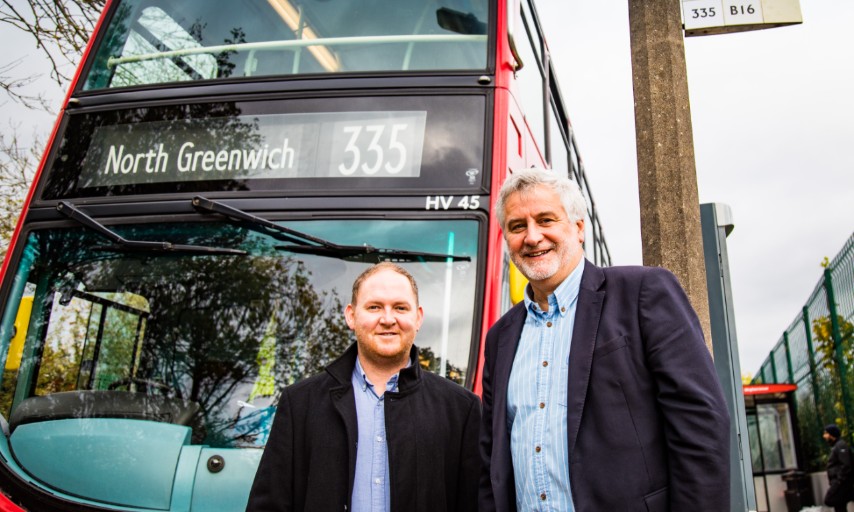 Published: Monday, 28th October 2019
Travel options in south east London have been improved with the launch of the new route 335, linking Kidbrooke and North Greenwich.
The 335, which began operating on Saturday 26 October, is the second new bus route to arrive in Royal Greenwich this year, following the launch of the 301 between Bexleyheath and Woolwich in June. The new high frequency 335 will use double-deck buses, running every 12 minutes Monday to Saturday daytimes, and every 15 minutes during evenings and Sundays.
Cllr Danny Thorpe, Leader of the Royal Borough of Greenwich, said:
"With the launch of the 335 bus route, the second new route in Royal Greenwich this year, our public transport links continue to go from strength to strength. Not only are bus services crucial in tackling air pollution, by increasing the number of journeys people are able to make by public transport, they are also a lifeline to those without cars, particularly the young and elderly."
Geoff Hobbs, Director of Public Service Planning at TfL, said:
"We are committed to improving and growing the bus network in outer London and introducing more convenient routes to help our customers connect to key local amenities more easily. The introduction of the route 335 is great news for our customers in south east London, giving a frequent, direct link between Kidbrooke and North Greenwich, and is the second of seven new bus routes we're planning to deliver in outer London this year."