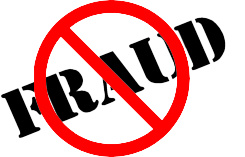 Published: Tuesday, 17th September 2019
A project management analyst who defrauded the Council has been sentenced to a hundred hours of community service and fined £1,500.
Households where everyone is a full-time student are exempt from paying council tax.
Mr Adeniyi Olaleye, aged 35, pretended he was a full-time student so he could avoid paying almost £8,000 in council tax for his home in Plumstead.
Our investigation found Mr Olaleye had used false evidence, which showed he was studying between 2011 and 2017.
In October 2018, a search warrant was executed by the Thamesmead Moorings safer neighbourhood police team, alongside council officials, at Mr Olaleye's address. He lied to council officers and the police that he had no student information at the property, but fake student documents were found at his home.
The 35-year old was sentenced on 3 September 2019 at Woolwich Crown Court, to a hundred hours of community service and he must pay £1,500 in legal costs to the Council.
Cllr Christine Grice, Cabinet Member for Finance and Resources, said: "Council tax is how we fund services in the borough, but sadly because of people like Mr Olaleye, we are losing the money needed to keep vital services running for the community.
"Mr Olaleye provided false documents and lied about being a full time student, despite him having a full time job. His selfish actions affect residents and I'm pleased that he was stopped and prosecuted".
If you suspect someone is committing fraud against Royal Greenwich, please call 0800 169 6975 or email fraud@royalgreenwich.gov.uk. Any information you give will be treated in confidence.