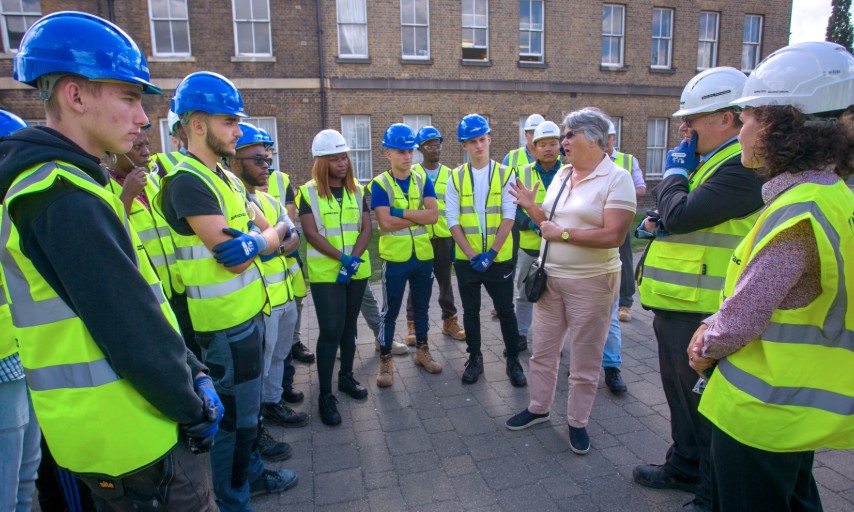 Published: Friday, 6th September 2019
Twenty-seven potential apprentices visited Woolwich Works, the Royal Borough of Greenwich's ambitious destination for the arts currently under construction, to get a taster of the careers on site.
The apprentice boot camp run three times a year by Greenwich Local Labour and Business (GLLaB), the Council's skills and employment agency in partnership with London and South East Colleges (LSEC), matches local people with practical apprenticeships in the construction industry.
Twenty-six apprenticeships will be available at the end of the six-week intensive programme with building contractors and their supply chains working in the borough: Mace, Berkeley Homes, Lovell Partnership and Bennett Construction.
Councillor Denise Hyland, Cabinet Member for Cabinet Member for Economy, Skills and Apprenticeships, said:
"Through our employment service, GLLaB, we get local people into apprenticeships, jobs and training. Through our regular construction boot camps, we make sure construction companies working in Royal Greenwich make good on their commitments to employ local people and those people have the right skills for the job too.
"It is fantastic to see one of the Council's own flagship regeneration projects Woolwich Works already providing jobs during its construction phase and 400 more jobs expected when it opens as London's next cultural events quarter in 2020."
Steve Hawthorne, Project Manager at Mace, on the Woolwich Works scheme, said:
"The Council's apprentice boot camp allows Mace to meet potential apprentices in advance and introduce them to trades and careers that they may never have been aware of. Through our contract to deliver Woolwich Works we are aiming to recruit nine local apprentices and provide nine work experience placements in administration, decorating, joinery and construction management. We have already placed one apprentice as a Health & Safety Assistant with our supplier London Diamond Drilling and he started this week."
The apprenticeship candidates will be put through their paces with on the job practical work experience, CV advice, interview preparation and training to get their Construction Skills Certification Scheme (CSCS) card so they can officially work on building sites. At the end of the six-week programme they will have a guaranteed interview with one of the contractors at Kidbrooke Construction Skills Centre.
Local residents interested in jobs in construction should contact GLLaB to find out about local opportunities. GLLaB is also holding a Jobs and Skills Fair at Charlton Athletic Football Ground on 11 September where job seekers can meet various employers in construction and beyond.