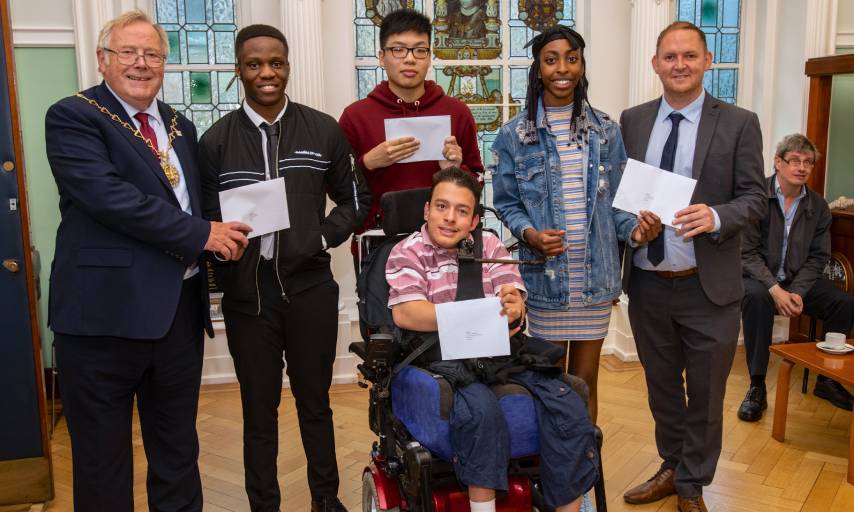 Published: Friday, 6th September 2019
Four specially selected young residents have each been awarded a bursary, worth up to £1,000, from the brand new Mair Garside Education and Career Award.
The award helps young residents to pay towards further education tuition fees, or other vocational opportunities, meaning they can reach their full potential in the career of their choice. This award has been established in memory of the late Mair Garside, who was made an Honorary Freeperson of the Royal Borough of Greenwich, for her services to education and young people.
Leader of the Council, Cllr Danny Thorpe, said: "Young people should not fall behind because of their personal circumstances and this bursary means four young people in our borough now have the opportunity to reach their goals and make a positive contribution to our society. I wish them the very best of luck and look forward to seeing them progress. Mair Garside did a great deal for young people in her lifetime and it's great that the Council can support her legacy and continue to make a difference."
Winners were selected by the Trustees of the Mayor's Charity Appeal, and they received their award from the Leader of the Council, Cllr Danny Thorpe, at a ceremony attended by Mayor Mick Hayes, in The Town Hall, on 5 September 2019.
Entries were accepted from those in further education, vocational training or embarking on a career, between the ages of 18 and 21. Individuals were considered for their drive and personal achievement and special consideration was given to those who required additional help to achieve their aspirations due to financial, physical or personal constraints.
More details about how to apply for the award next year will be made available in March 2020.
Winners of the award
Zhi-Jun, who will be studying Economics, said: "This award not only offers physical help to young people but also mental help, as it relieves some of the stress around money that many of us feel when considering life after school."
Emanuella, who will be studying Law and Media, said: "Going to university is so difficult for people without a family network and stable home life. This award is so important in offering some extra help along the way."
Hicham, who will be studying a Pathway to Independence, said: "This is such a special award to me and will open the door to a world of new experiences."
Gerald, who will be studying Business Management, said: "The cost of moving away from home to university is a big stress and having some financial help towards accommodation and other necessities is a big relief."