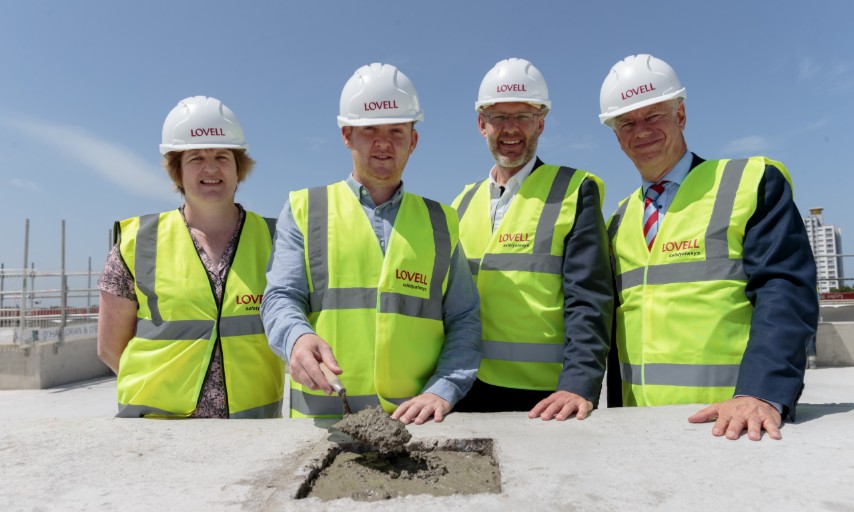 Published: Monday, 1st July 2019
Topping out ceremony marks major milestone reached at Lovell London Trinity Walk in Woolwich.
Councillors from the Royal Borough of Greenwich joined senior directors from Lovell London for a special ceremony to mark the topping out at Phase 3 of Trinity Walk in Woolwich on Friday 28 June 2019.
Cllr Danny Thorpe, Leader of the Council, and Cllr David Gardner, Deputy Leader Cabinet and Cabinet Member for Public Realm, joined Stuart Gibbons, Managing Director of Lovell London region. The group also included a Suzannah Taylor, assistant director, Regeneration, PA Housing (formerly Asra).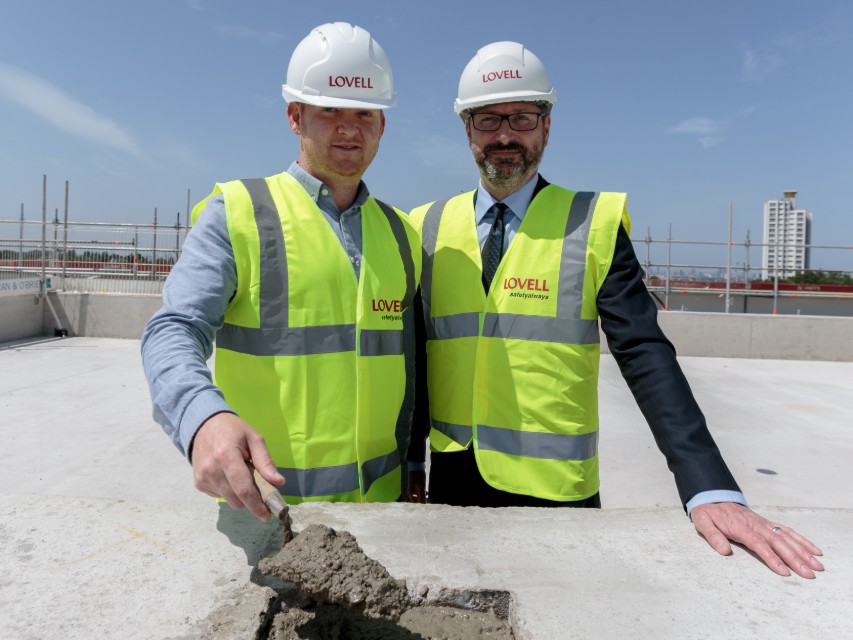 Cllr Danny Thorpe, Leader of the Council and Stuart Gibbons, Managing Director of Lovell, lay the last section of cement.
The rooftop celebration also enabled guests to take a closer look at the developing new community and admire the views towards the Thames available from the development's higher levels.
Transforming three former estates
Trinity Walk is successfully transforming three former council estates in the borough. Work began in June 2016 to create over 684 energy-efficient new homes including 239 affordable properties. The development offers one, two and three-bedroom apartments; and three and four-bedroom houses.
Cllr Danny Thorpe, Leader of Royal Borough of Greenwich, said: 'I'm delighted to be invited here to see the progress at Trinity Walk and help mark the topping out of Phase 3. Woolwich is currently undergoing massive regeneration to provide new homes, infrastructure as well as town centre improvements.'
He added: 'This development sits right at the heart of Woolwich and has allowed many young people and families to remain in this part of London.
'I am also pleased that so many local people are being employed here on the site – a project with longevity and the local community at its heart.'
Location is at the heart of architect-designed Trinity Walk with the new Crossrail station located just a mile away allowing commuters a seven-minute journey into central London.
The apartment buildings have been carefully designed to create a strong visual impact, accentuated with sensitive design details to provide a sense of individuality and style. Each new home has been built to maximise space and light as well as being finished with a high specification to ensure high levels of comfort, security and quality.
90 apprentices
The development features a 'linear park' at its heart while attractive tree-lined streets will connect the new homes with Woolwich town centre. Apartments with balconies will enjoy views over the park and longer vistas towards the River Thames. The scheme is also creating significant jobs and training opportunities locally with over 90 apprentices set to be trained over the course of the 12-year regeneration programme.
Stuart Gibbons, managing director of Lovell Homes, said: 'It was important to mark this significant milestone for the Trinity Walk scheme. I'd like to thank everyone at Lovell Homes, as well as all our partners for helping us deliver the scheme so far. There is significant demand and locals recognise that Trinity Walk is fast becoming an impressive community as well as a lovely part of London to live in.
'Our distinguished guests today were impressed with the space and quality of our apartments. All homes have been built to larger than normal standards which set Trinity Walk apart from other new build developments in the area.'
Suzannah Taylor, assistant director, Regeneration, PA Housing, the provider of almost 15,000 affordable homes in the Midlands and London, added: 'I'm extremely pleased we have marked the completion of a key milestone in this ambitious project to meet the housing needs of the local community.'