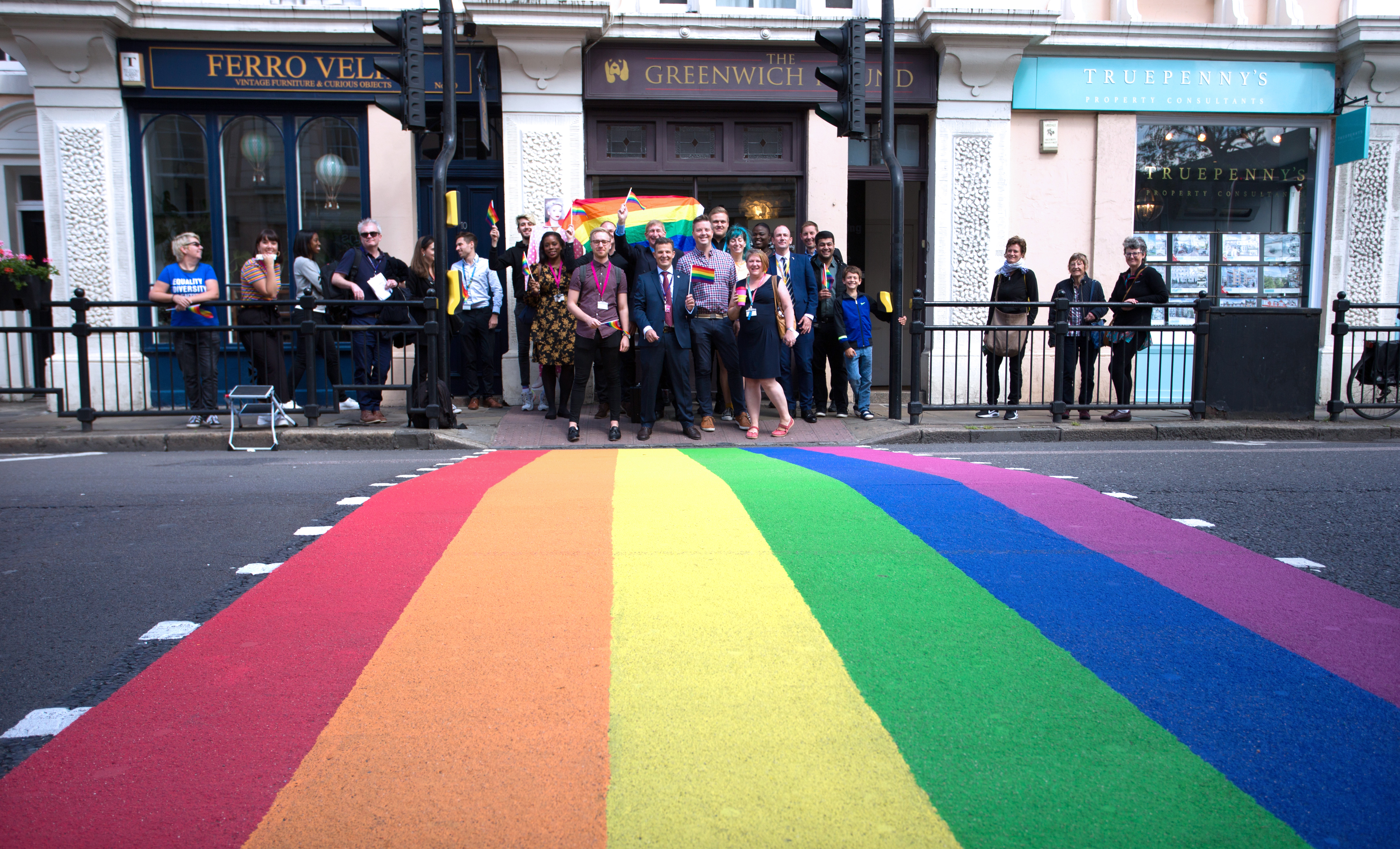 Published: Tuesday, 18th June 2019
Pedestrian crossings across the Royal Borough of Greenwich have been painted in vibrant rainbow colours to celebrate inclusivity and show support for this year's Pride in London events.
In Woolwich, three crossings at the junction of Thomas Street and Wellington Street have been painted to create London's first Pride junction. Crossings in Greenwich and Plumstead town centres have also been painted.
The crossings were launched today by the Leader of the Council, Cllr Danny Thorpe, and James Murray, London's Deputy Mayor, Housing and Residential Development, in Woolwich.
Cllr Danny Thorpe, Leader of the Royal Borough of Greenwich, said:
"It was an incredible morning celebrating the launch of our Pride crossings in Woolwich, Plumstead and Greenwich town centres. I would like to say a huge thank you to everyone who took part, and to our sponsors at the Old Royal Naval College, U&I, Lewisham and Greenwich NHS Trust, the University of Greenwich, Berkeley and Peabody. I hope that in 2019 we can continue to promote equality and diversity in our borough, so more young people will see stories that mirror their experience; feel more represented and want to participate in future LGBTQI+ focused projects with the Council and in our local community".
Pictures of the crossings have proved very popular on Instagram and Twitter. Amongst the first to share pictures were Shooters Hill residents Christopher and Jessica Bartlett-Walford, who posted pictures with their newborn son from the Woolwich Pride Junction. Christopher said:
"We registered Robin's birth at Woolwich Town Hall on Saturday, and the first thing we did was to take him down and take a photo at the Pride crossing. We feel it's really important that Robin grows up feeling that he can be whoever he wants to be, and that we support our friends in the LBGTQI+ community."
David Brown, land director at Berkeley (East Thames), responsible for Woolwich's Royal Arsenal Riverside development, said: "Being able to support such a visible initiative – one that speaks so loudly to Greenwich's celebration of inclusivity and its commitment to equality – is really important for an organisation like ours. We know how the buildings and spaces around us can have a real impact on making people feel welcome, and this is a powerful manifestation of just that."
Vice Chancellor of the University of Greenwich, Professor David Maguire, said: "We are proud to sponsor the Pride Crossing on College Approach, which is a central location in the heart of Greenwich and right next to our campus. The university is open, inclusive and diverse and stronger as an institution as a result."
The crossings have been funded by Old Royal Naval College, U&I, Lewisham and Greenwich NHS Trust, the University of Greenwich, Berkeley and Peabody.