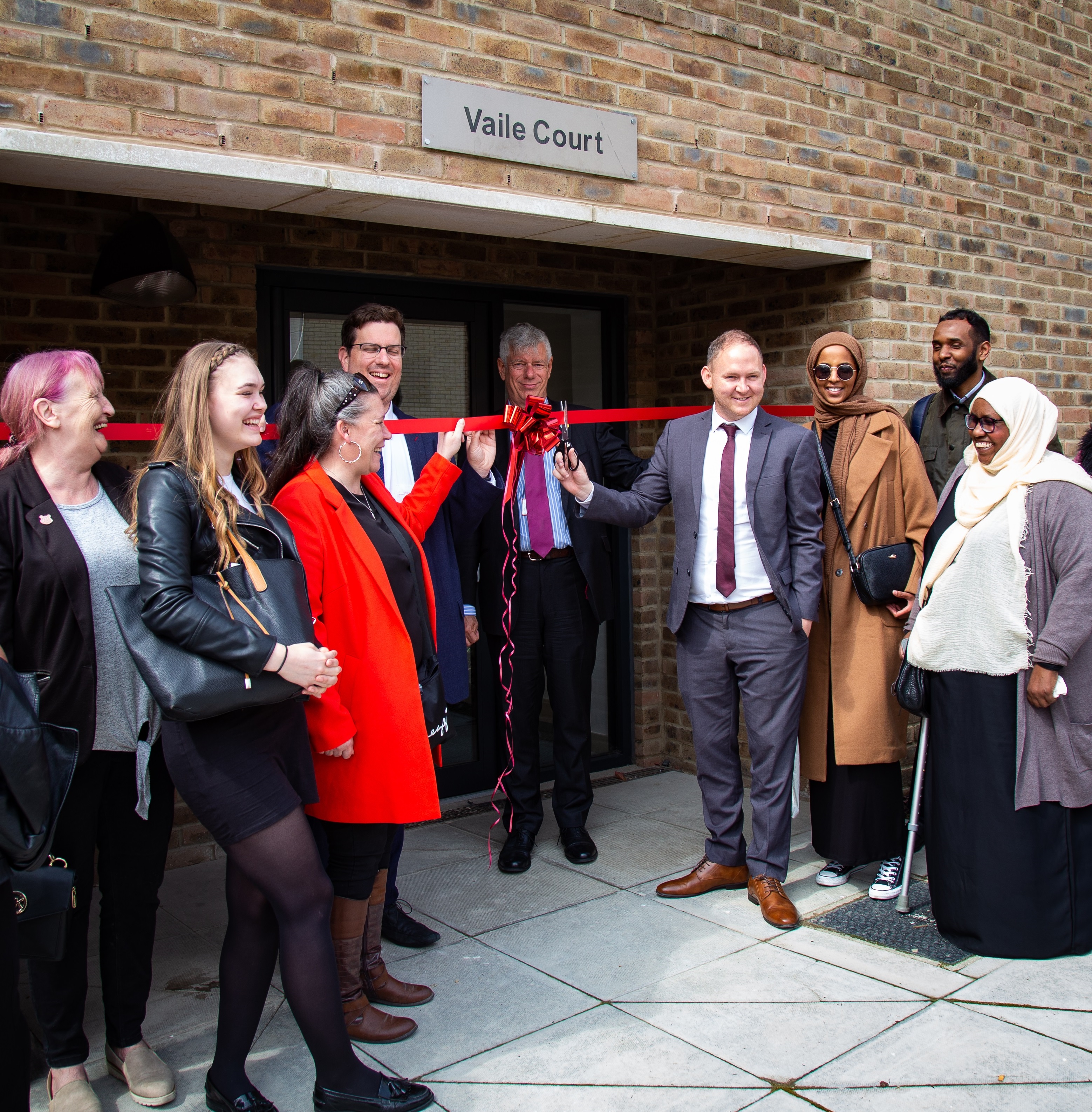 Published: Friday, 14th June 2019
The Leader of the Council Cllr Danny Thorpe and Cllr Chris Kirby, Cabinet Member for Housing presented six families with keys to their new homes at Vaile Court, in Woolwich, on Wednesday 12 June 2019.
The Lovells homes are part of the Trinity Walk, Woolwich scheme that is transforming three former council estates in the borough and have been bought from the developer by the Council with money received from Right to Buy sales - with a further seven due to move in next week.
Cllr Danny Thorpe, Leader of the Council, said: "It is a great privilege to give the keys to a brand new and permanent home to residents in need that that have been on the housing waiting list. Delivering new Council housing is our number one priority and I am delighted that we've got the first new homes now being delivered."
"These Council residents are not the only occupants who will be moving in to the Trinity Walk, Woolwich Scheme - 684 new homes will be built including 239 affordable properties managed by Paragon Asra Housing."
Cllr Chris Kirby, Cabinet Member for Housing, said: "This is just one of the many ways that the Council is providing quality homes for its residents. When we're forced to sell an existing Council home through Right to Buy the Government only lets us keep 30 per cent of the fund to pay for replacement homes, and it keeps the rest. However, through our Right to Buy Investment Programme we are identifying and purchasing suitable homes such as the ones in Vaile Court to buy and keep for Council tenants."
A resident who received their keys said: "I currently live in Middle Park and to get this place is absolutely amazing. I was overwhelmed when I came to see it, it's so beautiful. It's everything I could have dreamed of and more."
The 13 homes at Vaile Court were allocated through the Royal Borough of Greenwich's Choice Based Letting Scheme for people to bid for who are on the housing waiting list.
The Woolwich Estates Regeneration Project comprises the phased demolition of Connaught, Morris Walk and Maryon Road/Grove Estates replacing 1064 units with over 1500 mixed tenure homes of which 35% will be affordable. The development of Connaught is underway and the overall programme for the three estates will take up to 12 years. The Council is working closely with the developer to take every opportunity to reduce this programme and bring new homes forward.