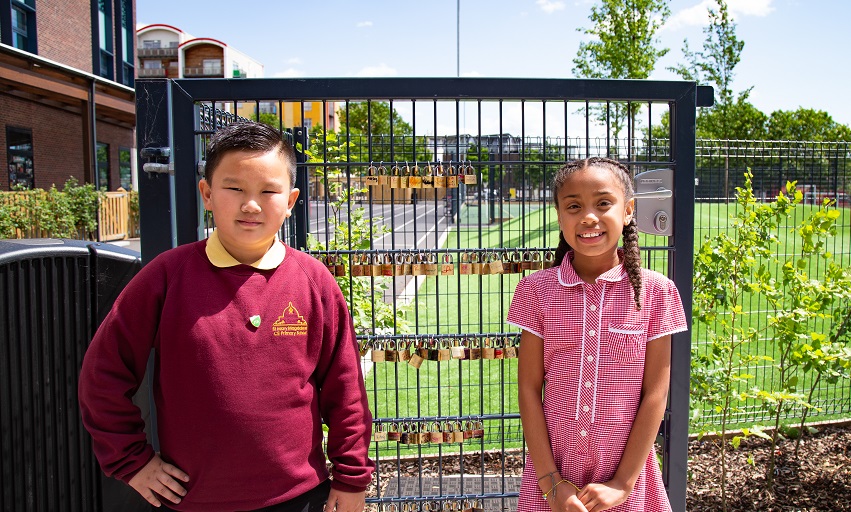 Published: Friday, 7th June 2019
Pupils, councillors and religious dignitaries celebrated the official opening of St Mary Magdalene Church of England School's Greenwich Peninsula campus at a special grand opening on 6 June 2019.
The school will provide over 1,670 places for young people to learn, thrive and excel - from fledgling learners starting in nursery right through to young adults entering sixth form.

At the service Rt Revd Christopher Chessun, Bishop of Southwark, blessed a plaque that was placed in the school's Peace Garden to commemorate the opening.

The school, situated on the Greenwich Peninsula, has been developed by the Royal Borough of Greenwich working with Knight Dragon Development Ltd, developers for the peninsula wide site, the Greater London Authority (GLA) which are the landowners and the Southwark Diocesan Board of Education.
'It is truly a 21st century place of learning'
Council Leader, Cllr Danny Thorpe said: "It was a privilege to join the pupils at their celebratory service and have a tour of the school to see the fantastic facilities that are on offer to our pupils. It is truly a 21st century place of learning that will benefit the lives of many young people in the area."

Claire Harrison and Victoria Wainwright, Federation Executive Co-Headteachers of the Koinonia Federation said: "It has been a superb day on which we have been able to celebrate with everyone who has been involved on our long journey to make the dream of our all-through campus a reality. We are delighted with our new building and all the facilities and look forward to welcoming many more new families into our school as we continue to expand through to sixth form."
High quality sports facilities
The all-through school is located on the corner of Millennium Way and John Harrison Way and encompasses environmentally friendly technology. It includes a nursery, a two form entry primary phase and a sixth form with 300 places. The school's high quality sports facilities are available for community use and include a running track, floodlit multi-use games areas, a 4-G external all weather football pitch and a four court indoor sports hall.