Published: Wednesday, 10th April 2019
We're hosting a free event for landlords of houses in multiple occupation (HMOs) on Thursday 18 April 2019.
The event has been organised so that landlords can find out more about the council's HMO licensing scheme, made compulsory in the borough in 2017 to ensure high standards in private rented accommodation are maintained.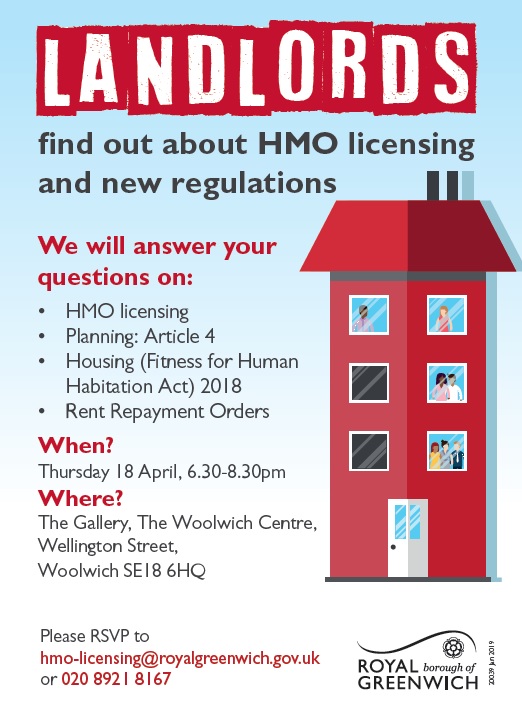 There are more than 8,000 HMOs in Royal Greenwich and the council is committed to helping landlords and letting agents understand the regulations they must abide by when managing a HMO in the borough. It is illegal to operate a HMO in Royal Greenwich without a license.
This event is an opportunity for landlords to also ask questions as council officials will be on hand throughout the event, answering any queries landlords may have about the scheme and other relevant topics such as planning permissions and rent repayment orders.
Event details
Thursday 18 April, from 6.30pm to 8.30pm. Entry is free, so just turn up.
The Gallery
The Woolwich Centre
Wellington Street
Woolwich SE18 6HQ
Councillor Chris Kirby, Cabinet Member for Housing said:
"Building on our successful HMO licensing scheme, we continue to engage with local letting agents and landlords to improve our relationships and encourage promotion of the scheme.
"We held similar events in January which were received well and we are holding our second set of events in April. As requested, we will be focusing on the licencing process and how they can continue to deliver good quality homes for residents."
Councillor Jackie Smith, Cabinet Member for Community Safety and Integrated Enforcement said:
"We want to work with all landlords and letting agents to build up the quality of our private rented sector and improve the lives of our residents. We have many responsible agents and landlords in our borough and our successful events in January led to a mutual commitment. We agreed to hold regular quarterly meetings, giving advice and getting feedback about what we can do to help with the challenges they face."
A similar event for letting agents is on 11 April 2019, same time and venue.