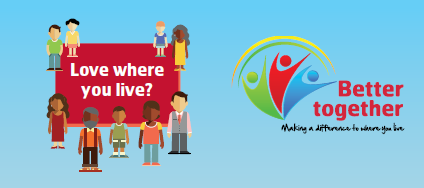 Published: Friday, 29th March 2019
Come to one of our Better Together community meetings where you can share your ideas for services, projects and events directly with the people responsible for organising them.
More than 70 residents came along to share their suggestions at our first Better Together meeting this spring.
If you want to make changes in your area, suggest an improvement or find out what's being done about an issue you care about, we have three more Better Together meetings coming up.
You can share your ideas with the people responsible for providing your local services. You don't have to speak in front of a large group, you can talk individually to staff who can help.
We're also looking for people to be community champions who wish to attend Better Together to represent and feedback to their group. As a community champion you only have to help as much as you can and what you do will depend on what is happening in your neighbourhood and what your interests are. You only have to help as much as you can – and you'll be offered a free accredited training course for your time.
Wednesday 3 April, 7-9pm
Middle Park Community Centre
150 Middle Park Avenue SE9 5SD
Theme: A safer Royal Greenwich – updates and advice from the police, the Council's community safety team and Neighbourhood Watch.
Thursday 11 April, 5pm-9pm
Hawksmoor Youth Centre, Thamesmead
Bentham Road, SE28 8AS
Theme: A great place to grow up – discussing opportunities and services for children and young people in the borough.
Tuesday 14 May, 10am-12noon
Greenwich West Community Centre
141 Greenwich High Road, SE10 8JA
Theme: A great place to be - making the most of living in Royal Greenwich by taking advantage of services and support in the borough.
No need to book – if you're interested in coming along, just turn up. And if you can't make these meetings, we will be holding another four meetings in the autumn. Find out more about the meetings or becoming a community champion on our Better Together webpages.