Published: Monday, 25th March 2019
In the wake of the New Zealand mosque attacks, the leader of the Council paid a visit to Greenwich Islamic Centre during Friday prayers, to personally address the congregation.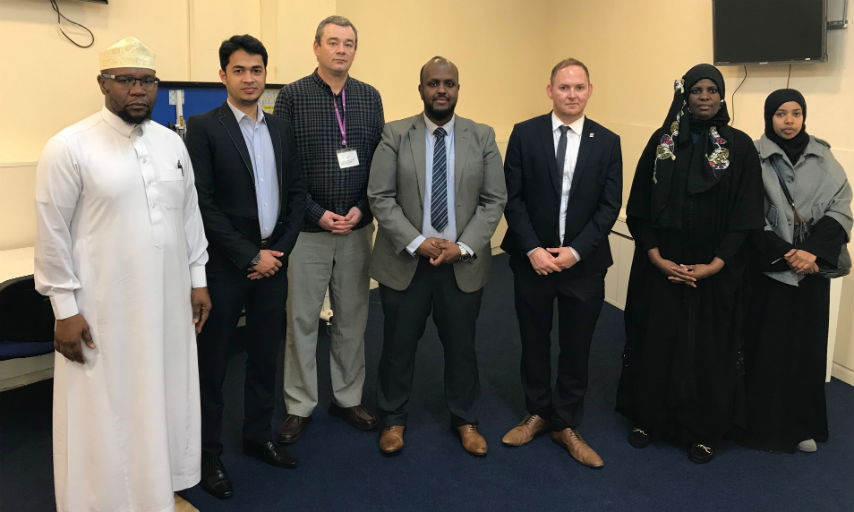 Cllr Thorpe with Greenwich Islamic Centre Imams and members of the congregation.
Speaking about the concerns of the Muslim community, Cllr Danny Thorpe said: "I wanted to be here today with you all, a week on from the horrific events in Christchurch. To stand shoulder to shoulder with you, against terror, and to ensure you know that, as the Leader of our borough, I will do everything in my power to keep you safe and ensure Greenwich continues to be a place where everyone feels safe."
Cllr Thorpe highlighted the importance of teaching young people to celebrate difference and not fear it, he acknowledged the varied and vital role that faith groups play in the borough – making reference to the work Greenwich Islamic Centre is doing with young people and Syrian refuges - and denounced hatred and division.
Cllr Thorpe concluded his heartfelt address by saying: "Today, I'm asking all of us to stay strong as we deal with these challenges but also to resolve our commitment to not just challenging hatred, but confronting it. To ensure peace triumphs over evil."
After Friday prayers, Greenwich Islamic Centre hosted a meeting about tackling Islamophobia and hate crime which was attended by council officials, MP for Erith and Thamesmead Teresa Pearce, MP for Eltham Clive Efford, faith leaders, the Greenwich Inclusion Project and other members of the community.
We will not tolerate Islamophobia and are tackling hate crime through our work with the police and local partners, as well as commissioning services like the Greenwich Inclusion Project to ensure people receive the support they need after experiencing a hate crime.

Marc Lorenzi, Hate Crime Intervention Services Co-ordinator, Greenwich Inclusion Project, said: "Hate crime is a criminal activity - motivated by hatred or prejudice of a person's identity; race or ethnicity; faith or religion, disability; sexual orientation and transgender identity.
If you or anyone you know has experienced a hate crime, you can contact Greenwich Inclusion Project on 020 3747 9864 or by visiting https://www.griproject.org.uk.