Published: Thursday, 7th March 2019
Find out how you can give farmers a sweet and fair deal at the Fairtrade family workshop on Sunday (10 March).
The free event takes place at Charlton House from 1-4pm.
There are over 4,500 Fairtrade products for sale in our shops, including coffee, chocolate, flowers, bananas and sugar. Fairtrade is about getting better prices, decent working conditions, local sustainability and fair terms of trade for farmers and workers in the developing world.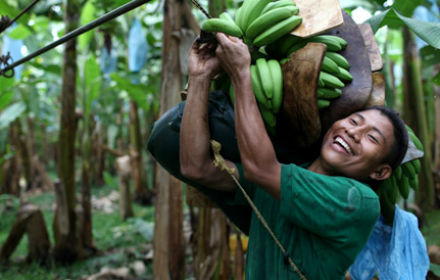 Fairtrade banana producer
As well as information about making life sweeter and fairer for the producers, there's also a host of family fun. This includes poster design, mask making, face painting and jewellery making. There will also be free Fairtrade snacks and tasters courtesy of Sainsbury's, Woolwich.
The Fairtrade family workshops take place at the Old Library, Charlton House SE7 8RE.
For more information on the campaign go to www.fairtrade.org.uk