Published: Tuesday, 5th March 2019
Celebrate women's achievements and forge a more gender balanced world
Women of the World Festival - Women's Enterprise Market
Thursday 7 March 11am-6pm
Woolwich Centre Library foyer, 35 Wellington Street SE18 6HQ
2-3pm - Women Empowerment Group Coaching Workshop with Carrie Brooks (bookable via Eventbrite)
5.30-7pm - Author Event and Book Launch: Minx Up Your Life!
Royal Borough of Greenwich
Come and celebrate with us at our free event
Thursday 7 March 7-8.30pm
Woolwich Centre Library, 35 Wellington St SE18 6HQ
University of Greenwich Senior Lecturer Rania Hafez - Empowerment Through Education
Caribbean Social Forum Founder Pamela Franklin - Spot of Change
University of Greenwich Principal Lecturer Dr Mary Clare Martin - Why the History of Young People Matters
Poet and Founder of RevolYOUtion London Rasheeda Page-Muir
Founder of Back-a-Yard Grill and winner of Best of Royal Greenwich Business Young Entrepreneur Award Adrianna Baker
Folk musician and feminist legend Julie Felix
Photo booth. Refreshments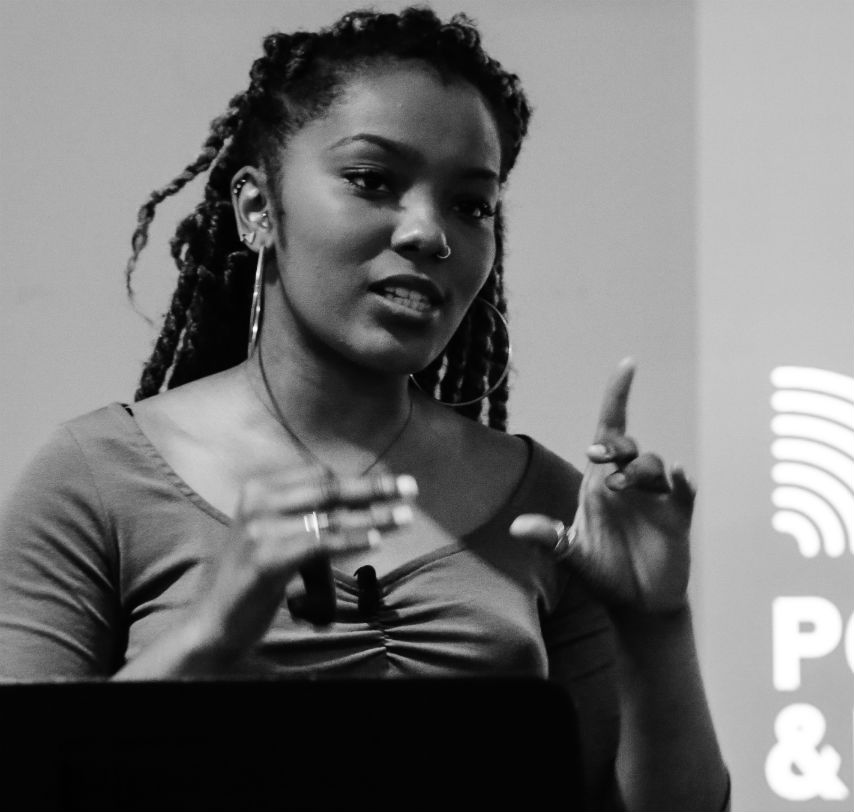 Rasheeda Page-Muir - Poet and Founder of RevolYOUtion
Friday 8 March
9.30am-12.30pm Hornfair Park. Free ride funded by the Council
9.30-10.30am Start at Hornfair Park and will follow quiet roads around Greenwich, stopping at points of interest within the borough. If you have your own bike then please bring it with you (it will be checked to make sure its roadworthy before the ride begins). A limited number of bikes will be available to borrow.
10:30am-12:30pm – Introduction to cycling. Women's group session (all ages and abilities):
Two qualified instructors will talk you through how to get on a bike and learn to ride. The session will be broken up into smaller groups of foyr, so come along and see what you think before taking part. There will be bikes to borrow, but do bring your own if you have one.
Women of the World festival
Friday 8 March 10am-4pm
Workshops and talks
Woolwich Centre Library, Wellington Street SE18
10am Networking
11-11.45am Ester Standford - Xosei Women's Empowerment and Self Confidence
12-12.45pm Loretta Awuah - Female Entrepreneurship 'Turning your passion into a business'
1-1.45pm Bernadine Evaristro - Woolwich Library Laureate Author Talk
2-2.45pm Mr Kofi Mawuli - Importance of Women in Education
2.45-3.30pm Q&A
Women's Health
Friday 8 March
11am-2pm
YMCA, Antelope Road, Woolwich SE18 5QG
Meet health professionals and nutritionists
Hear top speakers in the industry
Participate in fun and informative health workshops
Mental health awareness workshop
Learn how to live a longer, healthier, happier life
Refreshments will be provided
For more information: 020 3260 7715 or Julia@hercentre.org
Health and fitness
Mash-up of fitness classes for you to try
Saturday 9 March
10am-12pm
Waterfront Leisure Centre, Woolwich High Street SE18 6DL
Live DJ pumping the latest music
Free blood pressure checks by CACT
Public Health providing information on Live Well and wider health services
Find out more: www.better.org.uk/waterfront or call 02083175010
Black Female Entrepreneurs Greenwich present Women Breaking Barriers
Thursday 28 March
10.30am-2pm
St Peter's Church, 103 Woolwich Road, Woolwich SE18 6EF
Book: www.eventbrite.com/e/women-breaking-barriers-wbb-tickets