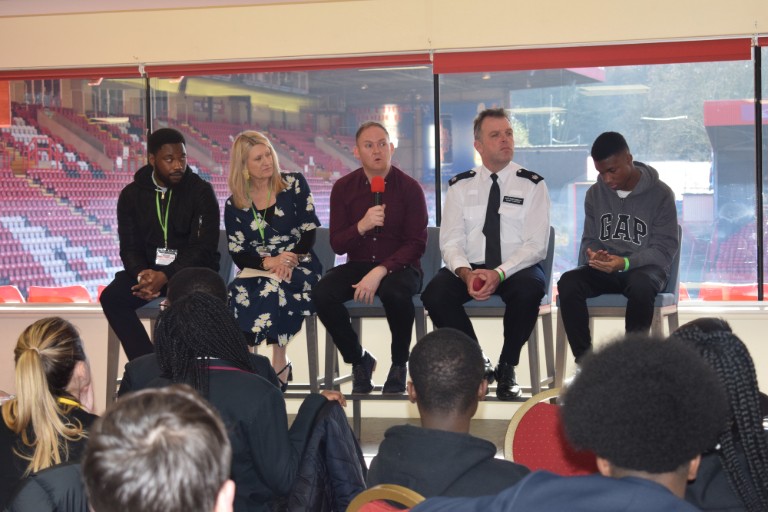 Published: Thursday, 21st February 2019
One hundred young people aged 11 to 18 from schools across the Royal Borough of Greenwich came together for a summit to combat knife crime.
The summit was run by Greenwich Young People's Council in partnership with the Royal Borough of Greenwich and Charlton Athletic Community Trust to combat knife crime.
South east London multi-genre music artist Romzy; the Leader of the Council Cllr Danny Thorpe; Cabinet Member for Community Safety and Integrated Enforcement Cllr Jackie Smith; Acting Chief Superintendent of Greenwich MPS Andy Carter; and founder of RevolYOUtion London Rasheeda Page-Muir were among those who spoke at the event. Temi Mwale's The 4Front Project a youth-led social enterprise and StreetDoctors an award-winning charity also delivered a series of interactive workshops.
At the summit held at The Valley, Charlton on Thursday 14 February 2019 the young delegates each took part in three workshops designed to find solutions to knife crime, hear from and quiz experts and make friends from different areas of the borough.
'We are proud of our young people'
Cllr Danny Thorpe, Leader of the Council, said: "We are proud of our young people and want them all to go on to lead long and fulfilling lives. When anyone becomes a victim of knife crime it is a life taken too soon.
"The latest quarterly figures show a large reduction in knife crime across the borough, which is clearly a step in the right direction. We want to build on this, which is why are setting up a serious youth violence reduction team to help combat and prevent youth and gang violence. Through initiatives such as the Summit we are listening to our young people to solve this tragic issue together."
Romzy
Romzy, a 16-year-old music artist from south east London, said: "I think the main cause of knife crime today, especially, is growing up in a deprived community and also the Government not showing enough attention to the youth which will make them feel like they have no support…and make the youth want to associate themselves with the wrong people."
Be the Judge and other workshops
Workshops at the Summit included a 'Be the Judge' game where young people had to consider how they would judge different criminal offences; how young people can engage in activism to make change happen; and learning practical first aid through role playing scenarios to be prepared in an emergency.
The outcomes from the Summit will be fed back into the work of Greenwich Young People's Council and the Council's Serious Youth Violence and Knife Crime Task Group chaired by Cllr Danny Thorpe Leader of the Royal Borough of Greenwich.