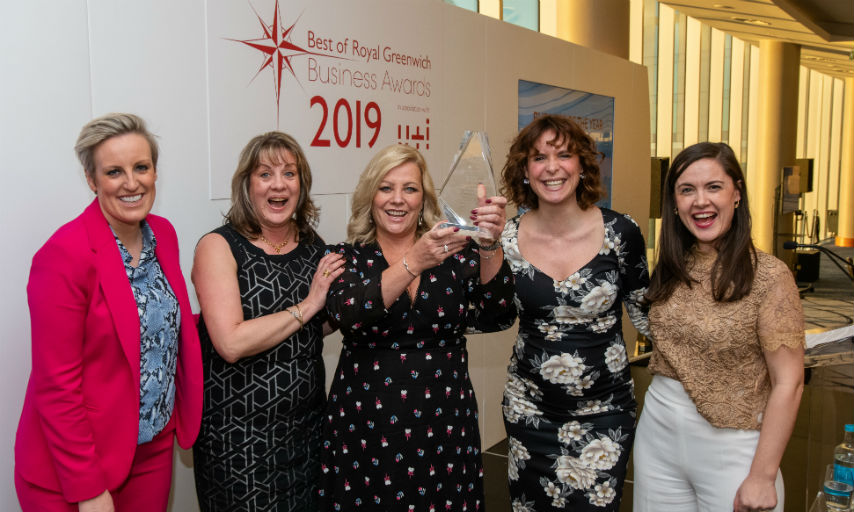 Published: Friday, 15th February 2019
What a day! The winners of our Best of Royal Greenwich Business Awards have been celebrating their honours in style.
Guest presenter, breakfast TV's Steph McGovern, handed out the honours at the glittering awards ceremony, sponsored by U+I, at the InterContinental O2 Hotel today (Friday 15 February).
South East London Chamber of Commerce supported the awards, which celebrate the diversity, passion and contribution of businesses in our borough and to highlight the vital role local businesses play in providing sustainable growth.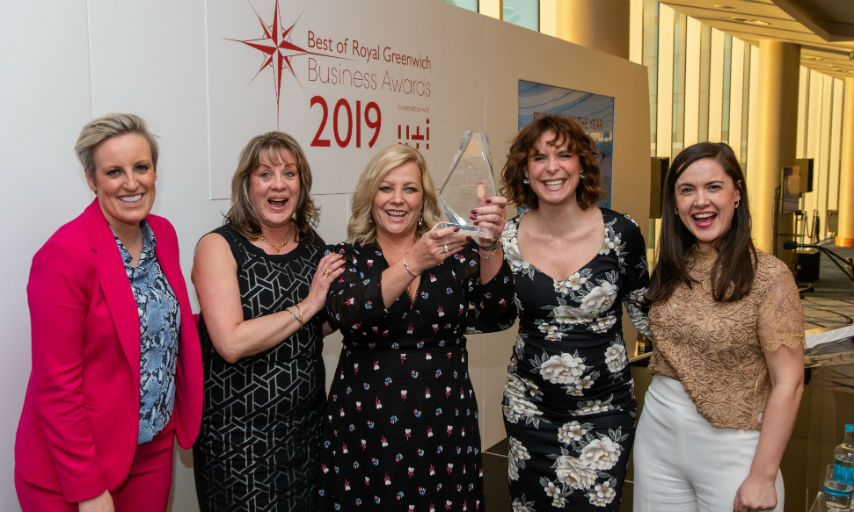 Representatives from Deaf Umbrella - winners of the Business of the Year award
240 nominations
Royal Greenwich is home to over 11,000 businesses providing around 95,000 jobs. This year, there was an incredible 240 nominations across the 10 categories, which is double the amount received last year. The final shortlist of 60 included six in each category.
Cllr Danny Thorpe, Leader of the Council, said: "Congratulations to all the winners at the Best of Royal Greenwich Business Awards. I'd also like to thank our sponsors for making it possible, as well as all those who took time to enter the awards, and everyone who attended the ceremony.
"Greenwich is a place to do business"
"These awards show that Greenwich really is a great place to do business and we're doing everything we can to help businesses of all shapes, sizes and varieties to thrive."
Cllr Denise Hyland, Cabinet Member for Economy, Skills and Apprenticeships, said: "We would like to bolster these awards by ensuring that we promote businesses, boost networking opportunities and encourage residents to shop local."
The 350 ticket holders at the event enjoyed a champagne reception courtesy of sponsor Riney, followed by a two course lunch.
Sponsors, contributions in kind and ticket sales fully funded the awards ceremony and £1,300 was raised for the Mayor's charities - Emmaus Greenwich and Demelza Hospice Care for Children - with Lovell sponsoring great raffle prizes.
The Best of Royal Greenwich Business Awards winners:
Micro to Small Business (sponsored by Handelsbanken) - BeGenio
Culture and Creative Excellence (sponsored by Drury Tea & Coffee) – Greenwich + Docklands Festivals
Greener Greenwich (sponsored by IKEA) - The O2
Medium to Large Business (sponsored by BPTW) – Paul Rhodes Bakery
High Street Retailer (sponsored by British Land) – The Curious Comb
Online Business (sponsored by Hindwoods) – Deaf Umbrella
Business Champion (sponsored by Grant Saw) – Raymond Sheehy & Michael Finlay - joint winners
Social Enterprise (sponsored by GLL) – GCDA
Apprenticeship Employer (sponsored by London South East Colleges) – M J Rooney Construction
Young Entrepreneur (sponsored by Peabody) – Back-a-Yard Grill
Find out more information about the awards and the judging process.
View the photos from the ceremony on our dedicated Business Awards Facebook page.