Published: Wednesday, 21st November 2018
The Royal Borough of Greenwich has welcomed the 100th business to its Reducing the Strength campaign, a timely signing during Alcohol Awareness Week (19 to 25 November).
The food WAREHOUSE, part of the Iceland chain, has pledged not to stock over strength beers and ciders in its store based in Stone Lake Retail Park, Charlton, following a borough-wide extension of the campaign.
Alcohol-related crime and anti-social behaviour in Woolwich has reduced by 10 per cent since the campaign was launched in the area in 2014 by the Council in partnership with the Metropolitan Police to reduce availability. The scheme has now been extended to other parts of the borough which have been affected by anti-social behaviour linked to street drinking.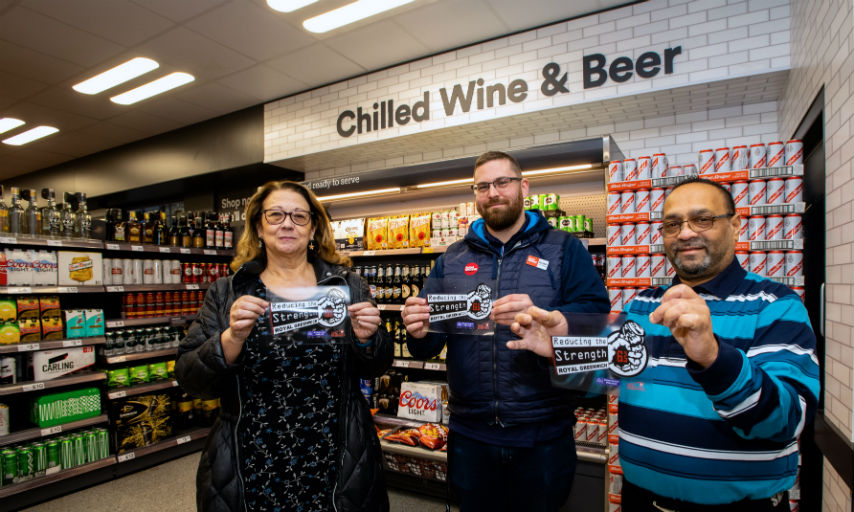 Cllr Jackie Smith, Andy Hergest, store manager of the food WAREHOUSE and Jay Patel, owner of Townsend Newsagents support the Reducing the Strength campaign
Strong beer and cider off the shelves
The food WAREHOUSE will not sell cheap strong beer, lager and cider with an alcohol content of 6.5 per cent such as Tennent's Super, Special Brew, Frosty Jack and White Ace.
Cllr Jackie Smith, Cabinet Member for Community Safety and Integrated Enforcement said: "Super strength beers and ciders can have significant negative impacts on those drinking them - who can be both perpetrators and victims - which in turn can have a negative impact on the wider community.
"We are encouraged by businesses like the food WAREHOUSE and the first to sign up, Townsend Newsagents, which recognise their responsibilities and are working with us to increase the success of the Reducing the Strength campaign."
Positive impact
Liam Elliott, Area Manager of the food WAREHOUSE said: "We fully recognise our responsibility within the neighbourhood we work in and are pleased to be part of this important scheme, as we know it will have a positive impact on the local community, our colleagues in store, those that shop with us, and the retailers alongside us."
Traders can sign up by calling the Licensing department on 020 9921 8018.