Published: Monday, 12th November 2018
Jingle bells! The Christmas countdown has begun for the Royal Borough of Greenwich's annual spark-tacular festivities.
Eltham, Greenwich, Thamesmead and Woolwich are all set to fill the borough with free festive fun.
Eltham Lights Up will illuminate the skies on Thursday 15 November with a '12 days of Christmas' parade. A display of specially made lanterns will weave along Eltham High Street, brightening the route in carnival style.
There's fun for all from 4pm to 7pm with a stage in Passey Place with live music, a children's show and street performers to add to the celebratory atmosphere as well as a Meccano model display, free face painting, enchanted story garden and more live music at the Eltham Centre, where the cafe will be open late. The traditional Christmas lights switch will be followed by a fireworks finale. Eltham High Street will be closed to vehicles from 3.30pm to 8pm for the celebrations.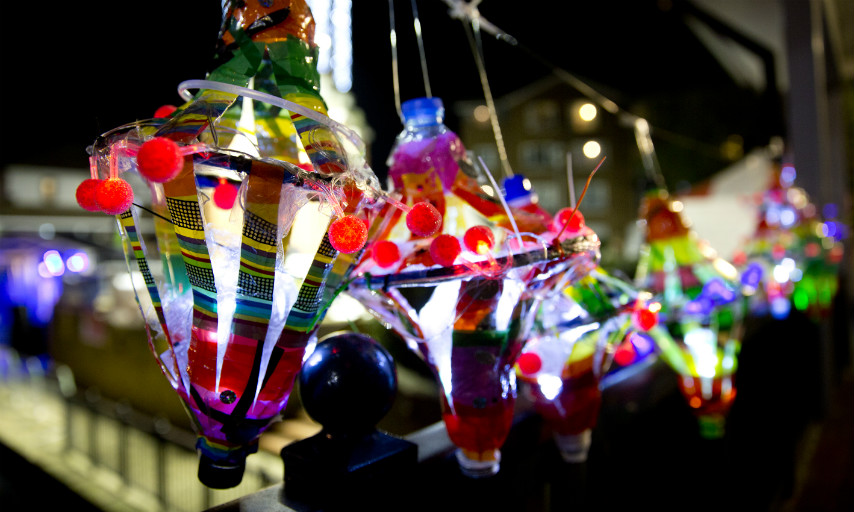 Lanterns at Thamesmead Christmas Sparkle
Santa's Grotto
Out of darkness comes brightness at Greenwich Lights On which takes place on Wednesday 21 November. Live music, Santa's Grotto and craft workshop provide the enjoyment in Greenwich Market from 4pm to 6pm at the event which is sponsored by Greenwich Hospital. There's a free lantern making workshop on 17 November from 1pm to 4pm at Greenwich Market for the lantern lit parade at Greenwich Lights On, which will lead to the Christmas tree lights switch on by the Mayor. Donations for Santa's Grotto go to the Greenwich and Bexley Hospice.
Get warmed up with delicious free hot chocolate and mince pies at the Thamesmead Christmas Sparkle on Friday 30 November. The spectacular, run in partnership with Peabody and Berkeley, takes place from 4pm to 7pm at the Clocktower, Joyce Dawson Way. It also features live stage music, street performers, food and craft stalls and a children's fairground for the under 8s.
A recycled Christmas
The theme is 'a recycled Christmas' at the Woolwich Winter Warmer on Saturday 1 December with a starring role for the lantern lit parade. The day time extravaganza takes place from 12noon to 6pm at General Gordon Square and Royal Arsenal with live stage music, including a performance from The Worldbeaters drumming band and local band Decks and Quartz. There are also treats for a small donation in the GCDA Surplus Feast Zone.
A lantern making workshop takes place at Woolwich Library on the day of the Woolwich Winter Warmer, from 11.30am to 2.30pm. The skies will then twinkle with the lantern lit parade leading to the Christmas tree lighting ceremony and then the firework finale at Royal Arsenal.
The RARE Christmas event also takes place on 1 December from 4-8pm at Artillery Square and No.1 Street Royal Arsenal Riverside.