Published: Tuesday, 16th October 2018
Leaders of faith groups from across the Royal Borough have joined together to pledge to foster community cohesion and religious understanding.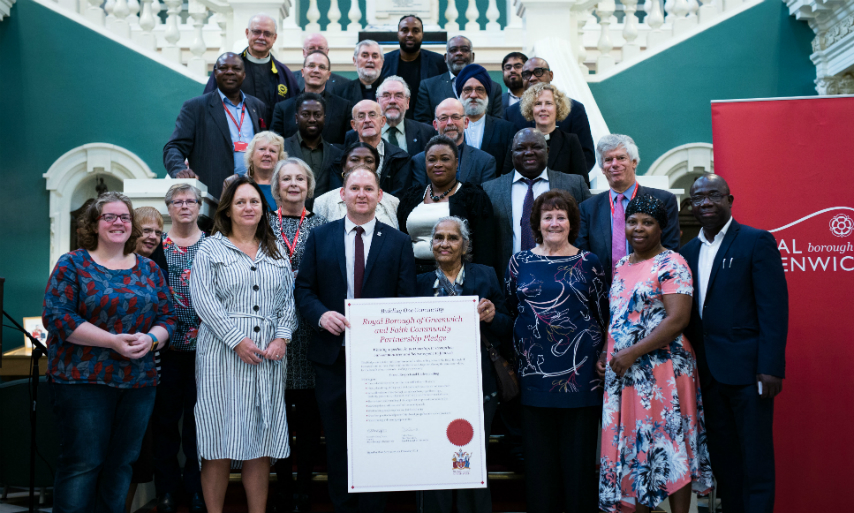 Cllr Danny Thorpe (centre) Chief Executive Debbie Warren (centre left) joined by Cllrs and faith leaders with the Faith Community Partnership Pledge
At the breakfast event hosted by Cllr Danny Thorpe, Leader of the Royal Borough of Greenwich, and Chief Executive, Debbie Warren, they were joined by representatives from a number of different faith groups from across the borough, who pledged their commitment to bring local Faith communities together, sharing the same core values, for the benefit of all the borough's residents – building one community.
The UK, and London in particular, is recognised as having a greater diversity of world religions than many other cities on earth, and is what makes London – and Royal Greenwich - such a special and unique place to live in.
This diversity is a visible part of everyday life, however, many people in today's society have no more than a cursory understanding of the different faiths, or perhaps none at all.
The aim of the Leader's Breakfast event for faith leaders, on 17 October, was to bring the faith community together, to discuss the challenges faced in building and maintaining cohesive communities in the borough, and how they can be addressed together.
The event is the latest in a series of breakfast meetings that Cllr Thorpe has been holding since he was elected as Leader of the Council in May - the previous two being held with representatives from the voluntary sector and small businesses, two very important sectors in the Royal Borough.
'This Pledge outlines our strong desire to build a stronger and closer community'
Councillor Danny Thorpe, said: "Royal Greenwich has a rich and diverse population, we should be living in harmony and understanding, not divided by belief or religious practices. Together we have the power within us to bring a new level of understanding and to foster respect for one another, regardless of who or what we are. I was immensely proud of the honest debate, passion and commitment expressed by everyone that joined us to sign our Community Partnership Pledge.
"Faiths groups provide an immensely important role in providing vital services for local people, and the need continues to grow with the continuing austerity cuts faced by local authorities – everything from food banks to social clubs for the elderly and people who are usually socially isolated, youth clubs, safeguarding and advocacy services, from health awareness to winter night shelters, refugee support and legal advice and assistance, as well as Christmas food hampers and employment advice and support. It's vital that we work together, to bring our entire community closer together, and this Pledge outlines our combined desire to build a stronger and closer community."