Published: Monday, 15th October 2018
Enforcement Officers from the Royal Borough of Greenwich were at the forefront of a large scale joint operation on the New Lyndenburg Industrial Estate in Charlton.
Officers led operation 'Stop It' with colleagues from Driver and Vehicle Standards Agency (DVSA), the Environment Agency, Immigration Officers and colleagues from the Metropolitan Police.
31 vehicles seized
In total, they seized 31 vehicles, including a Range Rover valued at over £10,000 for driving with false number plates. They also helped to apprehend one suspect that was wanted outstanding since 2016, and assisted immigration colleagues with intel they will be using for future operations.
This is not the first time that officers from the Royal Borough of Greenwich have taken such action, Royal Greenwich has an ongoing programme to target vehicles that are not roadworthy and cause an inconvenience to residents and local businesses. Since January 2018, Royal Greenwich has seized over 650 untaxed and abandoned vehicles, not including those that were removed on suspicion of fly tipping.
Royal Borough of Greenwich officers take part in operation 'Stop it'
'One of many successful operations'
Cllr Jackie Smith, Cabinet Member for Community Safety and Integrated Enforcement said:
"I would like to thank the colleagues from the Royal Borough of Greenwich that were present, assisting members of the Metropolitan Police and Immigration Officers on this operation. I would also like to thank colleagues who work tirelessly throughout the year.
"This was one of many successful operations in the Borough. We are fully aware of the impact these vehicles can have on the local community and we have a zero tolerance policy on anti-social behaviour. We always seek to use the full range of powers granted to us."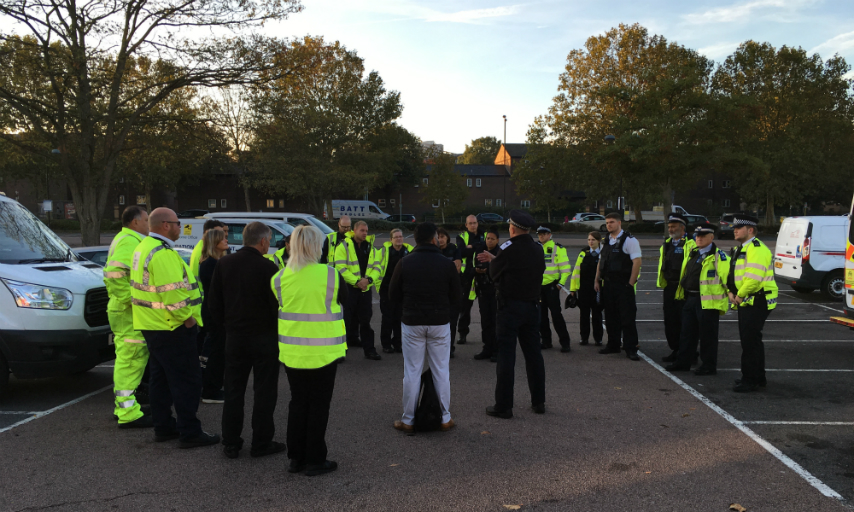 Officers assemble to begin operation 'Stop it'