Published: Thursday, 4th October 2018
Thanks to a grant of £20,000 from the Council Wyborne Primary School, New Eltham, has been able to remodel part of its school to provide additional nursery places for two to four year olds.
Leader of the Council, Councillor Danny Thorpe, visited the school on Thursday 27 September to help cut the ribbon. He said: "It was fantastic to open Wyborne Primary School's new nursery building and have lunch with the pupils. By increasing the number of nursery places now more children will benefit from the school's educational opportunities and working parents from 30 hours free childcare."
'More working parents will benefit from 30 hours free childcare'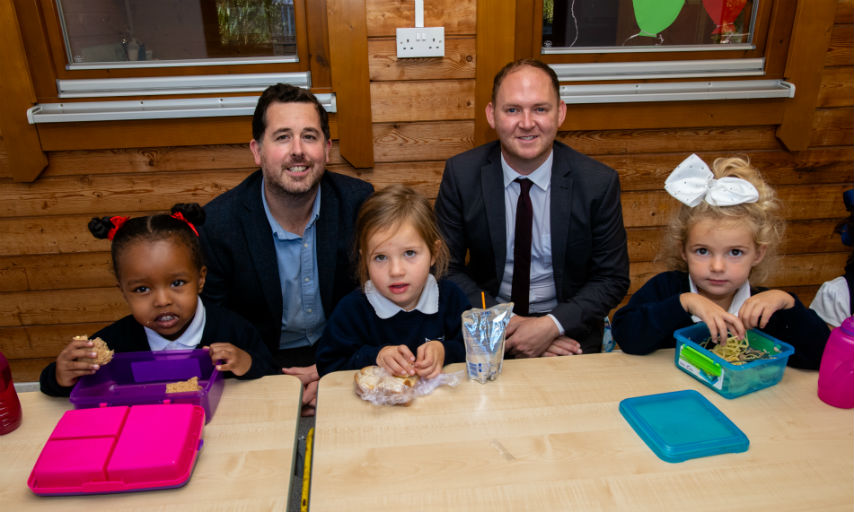 James Searjeant Headteacher and Cllr Danny Thorpe with pupils at Wyborne Primary School.
James Searjeant, Headteacher of Wyborne Primary School said: "We have been able to expand our nursery provision to accommodate more full time places. Our children can now eat their lunch in a comfortable, quiet and age appropriate dining space, which was only made possible with the 2018 Early Years Capital Fund Grant awarded to Wyborne Primary School by the Council."
Apply for a school place in Royal Greenwich now
Wyborne Primary School is one of the 94 per cent of Royal Greenwich's schools judged 'Good' or 'Outstanding' by Ofsted.
The admissions process for children starting primary or secondary school in September 2019 is now open. Secondary school applications close on 31 October 2018 and primary school applications close on 15 January 2019.