Published: Friday, 31st August 2018
Relatives and dignitaries joined together on Tuesday 29 August to mark the unveiling of a plaque commemorating a local First World War hero.
Lieutenant Cecil Harold Sewell was born in Royal Hill, Greenwich in 1895, one of nine children. In 1914, at the age of 19, he joined up to fight in the war. After a spell in the Queen's Own, he later joined the Tank Corps.
During heavy fighting in Fremicourt, France, Lieutenant Sewell went to the aid of the crew of another tank that had taken fire and had overturned and left stranded in a large shell-hole. Lieutenant Sewell dug at the doorway in order to release the crew, who all managed to escape. Seeing his own tank driver lying injured he ran back to him and tended to his wounds, but was wounded himself. Under heavy and constant fire, he was hit again, fatally.
Lieutenant Sewell died on 29 August 1918, and was awarded the Victoria Cross for his heroic actions that saved the lives of others.
Unveiling of the commemoration stone
The unveiling of the stone to commemorate him is the fourth and final commemorative stone placed in Royal Greenwich to honour Victoria Cross recipients who were born within the borough's boundaries. It follows stones commemorating Eric Gascoigne Robinson in February 2015, Henry Kenny in September 2015 and John Pattison in April, 2017.
Councillor Christine May, the Mayor of Royal Greenwich, welcomed over 100 guests, including over 50 members of Lieutenant Sewell's family, and senior members of the Armed Forces and other dignitaries to the ceremony.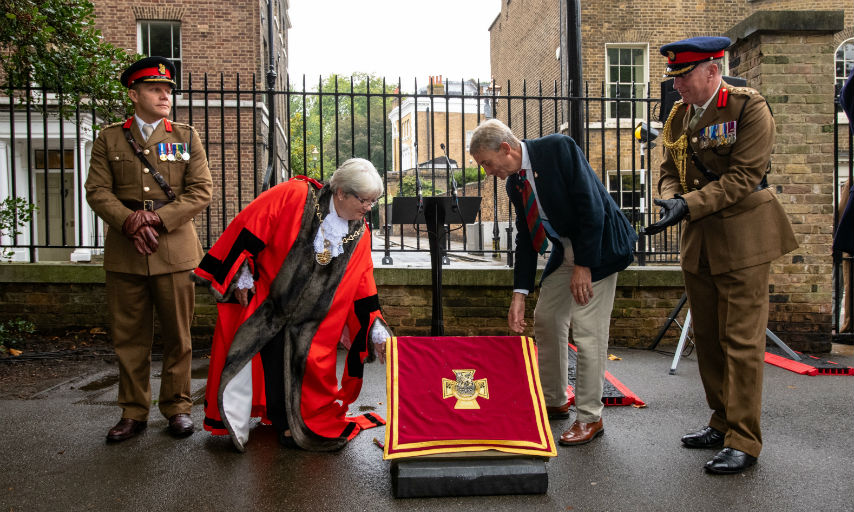 Mayor Christine May and Frank Stockdale unveil the commemoration plaque
'The outstanding contribution will never be forgotten'
Cllr May thanked the family of Lieutenant Sewell for their personal contributions and for travelling from across the country to attend the event, adding: "The Royal Borough has a proud and long standing military history and we recognise and honour all who serve. The outstanding contribution to our country will never be forgotten.
"Residents living in the Royal Borough of Greenwich are rightly proud of our historic links with the Armed Services. The freedoms that we often take for granted only exist because these people made the ultimate sacrifice for future generations.
"Today's ceremony is part of the National Campaign to honour the 628 recipients of the Victoria Cross, during the First World War. The Victoria Cross being the highest Military Decoration awarded for valour, in the face of the enemy, to members of the Armed Forces. It takes precedence over all other orders, decorations and medals."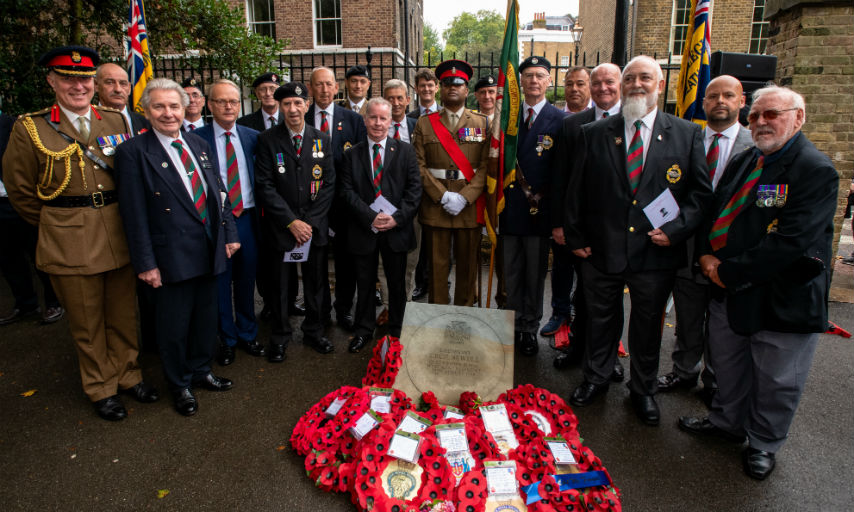 Armed Forces colleagues pay their respects
Victoria Cross stones in the Royal Borough
The VC stone to Lieutenant Sewell is located at the junction of Crooms Hill and Gloucester Circus. The other stones are:
Rear Admiral Eric Gascoigne Robinson, 1 Diamond Terrace, Greenwich
Private Henry Edward Kenny, Maryon Park, Charlton
Private John Pattison, General Gordon Square, Woolwich
Find out more about VC stones in Royal Greenwich on the Greenwich Heritage website