Black bin - non-recyclable waste
We collect non-recyclable waste from either your black-top bin, black sack or large communal wheeled bin depending on your property type.
The waste material goes to an energy from waste plant located in neighbouring borough Lewisham, where it's incinerated to generate electricity.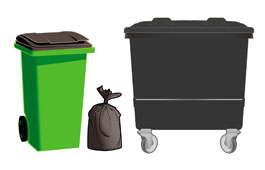 What goes in the black bin
If you're unsure where an item goes, put it in the black bin.
Please use the black service for:
disposable nappies
used tissues and kitchen roll
sanitary towels and incontinence pads (bagged)
polystyrene packaging
pet waste or cat litter (double-bagged)
broken crockery (wrap first to avoid injury)
cigarette ends and ashtray contents
coal and wood ash (cooled)
cotton wool pads and buds and make-up wipes
vacuum cleaner waste
textiles (which you can also take to a recycling bank (Recycle for London), or request a free textiles collection).
Larger or bulky items
If you have larger items to dispose of, such as washing machines, fridges and furniture, you can:
You can also give good quality furniture to charity or pass it on through a reuse network such as Greenwich Emmaus.
Not in the black bin
Please don't use bins or sacks to dispose of building materials, paint, chemicals or small electrical goods.
You can take these to our Reuse and Recycling Centre and there are special services to dispose of: