Blue bin - mixed dry recycling
We collect mixed dry recycling from your blue-top bin, clear sack or large communal wheeled bin depending on your property type.
The recycling material goes to the materials recycling facility (MRF) in Nathan Way, Thamesmead, where it's separated and sent to re-processors for recycling.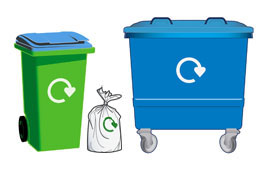 Mixed dry recycling materials we collect
Wash out any containers that have food or liquid in them before you put them in the bin. Even a small amount of food waste can potentially ruin a large amount of recycling.
Cans, including:
food tins and drinks cans
empty aerosol cans
tinfoil and foil ready-meal containers (with food removed).
Cardboard, including:
cardboard boxes
cardboard food packets
greeting cards
toilet roll and kitchen roll inserts
food and drink cartons (with liquids removed).
Paper, including:
newspapers and magazines
catalogues, telephone directories and paperback books
envelopes and junk mail
shredded paper (bagged).
Glass, including:
glass drinks bottles (clear and coloured)
glass food jars and bottles.
Plastic, including:
plastic bottles - emptied drinks, milk, shampoo and bleach bottles (squash them down)
yoghurt pots, plastic ready-meal containers, margarine and ice-cream tubs, and plastic fruit punnets (clean with food removed).
Please don't put your mixed dry recycling in black waste sacks as our collection crews can't tell what's in them.