Green bin - food and garden waste
The Royal Borough of Greenwich collects food and garden waste from your green-top bin or corn starch sack (depending on your property type).
The material is delivered to an in-vessel composting (IVC) facility in Dagenham, Essex, where it's turned into compost.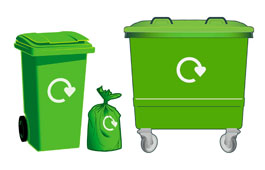 Food waste
Food waste refers to all cooked and uncooked food, including:
fruit and vegetables
meat, fish and bone
plate scrapings
rice, pasta and bread
tea bags and coffee grounds.
Garden waste
Garden waste includes:
grass, hedge and shrub cuttings
leaves and weeds
plants and flowers
straw, hay and sawdust
tree bark and small branches (less than 50mm or two inches in diameter)
vegetarian pet waste (for example, from rabbits, guinea pigs and hamsters)
Not in the green bin
Please don't put plastic bin liners, plastic sacks, carrier bags or degradable/biodegradable sacks in your green-top bin as they don't break down quickly enough.
Please keep the amount of soil you put into the green-top bin to a minimum. If you have a lot of soil to dispose of you can load it into small rubble sacks and we can collect it as part of our bulky waste collection service.
Using your kitchen caddy
Residents can request a six-litre kitchen caddy to store food waste in until there is enough to put into the bins or sacks for collection.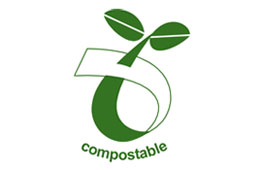 Corn starch and paper liners and sacks are suitable for holding your food and garden waste - don't use plastic bags.
Make sure that the sacks you use carry the 'compostable' sign.
Home composting equipment
We work with a company called Straight PLC to provide composting bins and equipment to residents.
Buy home composting equipment (Get Composting website)
Reduce food waste
We support the Love Food Hate Waste campaign, which encourages people to shop, cook and store food wisely.
Learn how to reduce food waste (Love Food Hate Waste website)