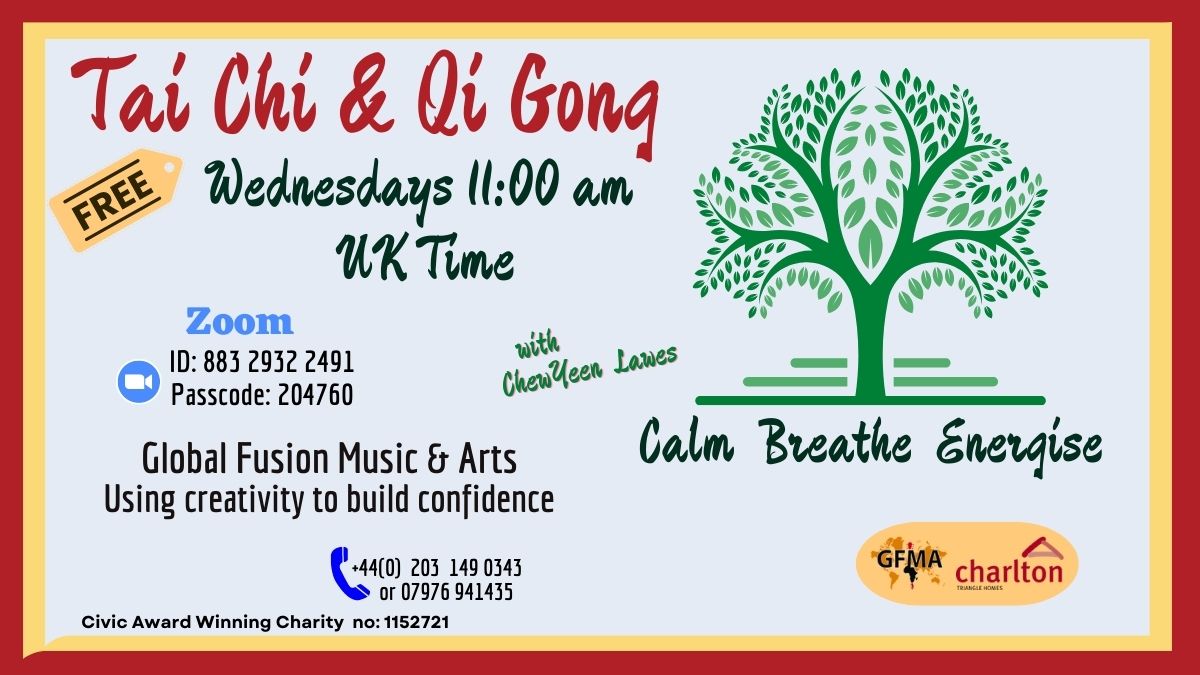 Date: 18th January 2023 - 29th March 2023
Every week
Location: Zoom Platform
Time: 11:00 - 12:00
Cost: Free
This is an established group where some participants have been meeting regularly for two years since these Tai Chi an Qui Gong sessions began. We welcome newcomers to the Group.
We are happy to invite newcomers to the Global Fusion Music & Arts group so you too can feel the health benefits of working with your energy and Tai Chi.
Qigong and Tai Chi combine postural health, deep breathing and relaxation with gentle flowing movements and mindfulness. Its movements are designed to improve balance, increase flexibility and strengthen muscles and tendons. Tai Chi can be practised by individuals of all ages. If you are a Tai Chi novice and interested in joining us please see the two following youtube links:
They can help to prepare you for the practice session if and when you choose to join us on Wednesdays.
Tai Chi and Qi Gong Sessions lead by Chew Yeen Lawes
Wednesdays 11:00 AM
Join Zoom Meeting https://us02web.zoom.us/j/88329322491?pwd=ZG83Y3JzM3dxR3FwZlVZa0pDY3VPQT09
Meeting ID: 883 2932 2491
Passcode: 204760
The session meetings are open approx five minutes before the start time, please arrive prompt.
(Please switch on your camera and identify yourself when entering the Zoom meeting - for the safety of the group)
Global Fusion Music & Arts Using Creativity to Build Confidence, Civic Award Winning Charity no: 1152721, Phone: +44(0) 20 3149 0343 or 07976 941435
Email: info@globalfusionarts.co.uk
Medical Disclaimer: Global Fusion Music & Arts reserve the right to disclaim any injuries resulting from these Tai Chi Qi Gong Sessions. Your health is your responsibility. Exercise carries it's own risk, and you should therefore never exercise beyond your ability. If you have any doubts as to your fitness, or you have any medical conditions that may affect your safety through exercise, you should seek advice from your doctor or medical professional before participating in this activity.
Our Sponsor: Charlton Triangle Homes