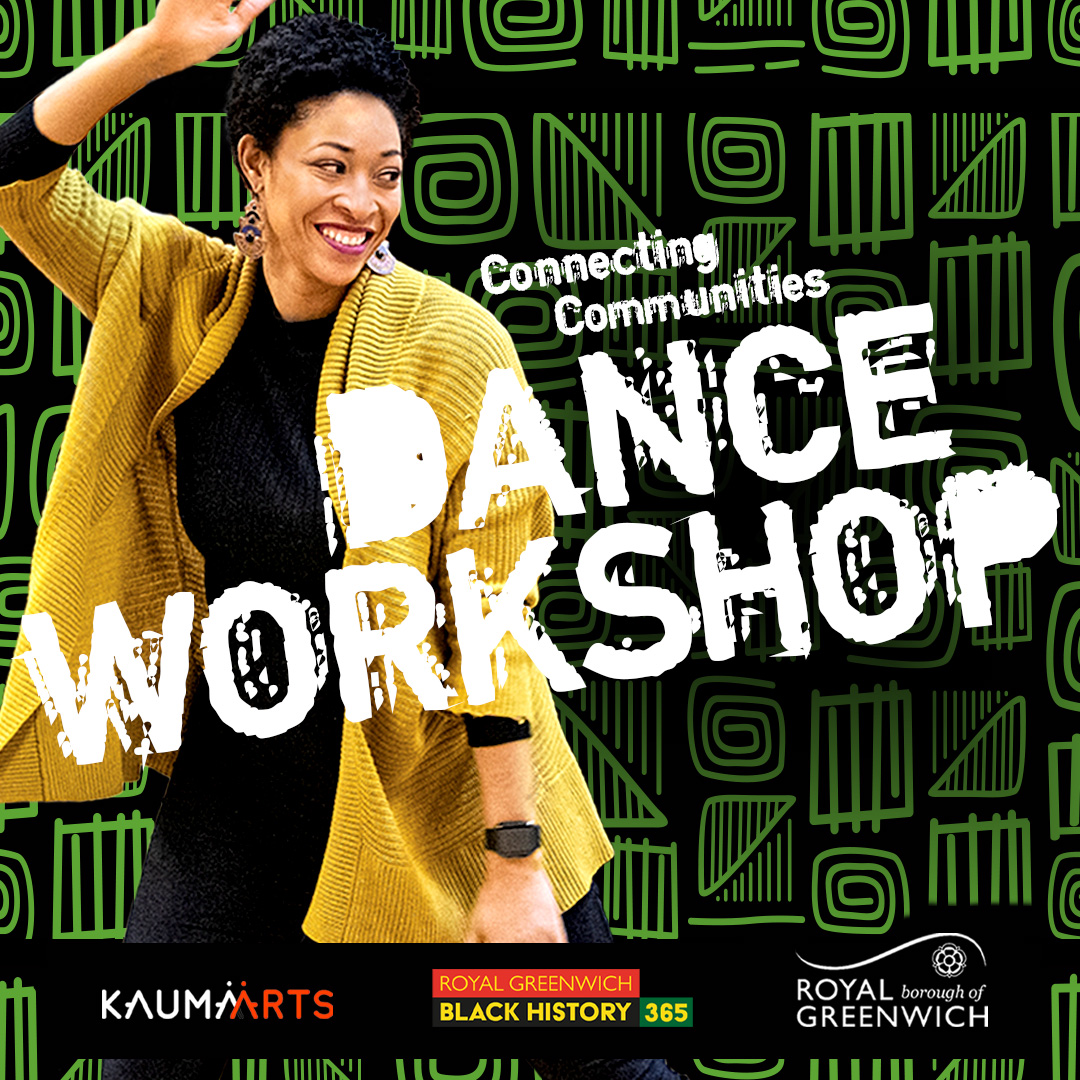 Date: 9th October 2021 - 17th October 2021
Every week
Location: Royal Borough of Greenwich
Time: 12:00 - 15:00
Cost: Free
The Royal Borough of Greenwich Connecting Communities Dance Festival has three brilliant workshops you can join as part of the celebrations.
The festical is set to dazzle with a five-day extravaganza revelling in different dance styles from our African, Asian, and Caribbean diaspora communities across several borough locations.
The live festival celebrates the wonderfully rich cultural diversity we have in our borough and runs over half term, Monday 25 to Friday 29 October 2021. Showcasing four new commissioned dance pieces plus several unique performances it's made in collaboration between residents, community groups, and dance pros. Celebrating our African, Asian, and Caribbean communities it's a festival for everyone of every ability who wants to come together, and joyfully dance.
Funded with a £50,000 Arts Council England grant it's part of Black History Month and other Black History 365 events running throughout year. We worked in partnership with the stellar Kauma Arts team to create it, it's set to shine across the Royal Borough of Greenwich. Come – you'll love it!
Join free dance workshops
These free workshops are open to everyone, so grasp the exciting opportunity to learn and dance along with a professional dancer. There are three wonderful workshops to join.
Nepalese dance and storytelling
Saturday 2 October, 12 to 3pm, Plumcroft Primary School, Plum Lane Campus, Nithdale Hall, NIthdale Road, SE18 3HW
Led by Dipson Ghale and Maria da Luz, delight and connect in movement and storytelling that brings Nepalese folk stories to life as the artists share their own lived experiences as residents in our borough. Weave a magical day together as you listen, connect, and create.
Get free tickets Or just turn up on the day!
Maculelê Brazilian dance, music and costume making
Saturday 9 October,12 to 3 pm, Broadwater Village Hall, 1 Goosander Way, London SE28 0ER
Led by TARU Arts, rejoice in African influenced Brazilian in a spectacular showcase of Maculelê music, dance, and drumming styles. Learn carnival dance moves influenced by Caribbean rituals and make eye-catching carnival costumes to wear in the festival's October procession alongside TARU Arts drummers at the festical finale in Woolwich.
Get free tickets Or just turn up on the day!
Discover Ugandan dance, through film, movement, and art
Saturday 16 October, 12 to 3pm, The Tramshed, 41 Woolwich New Rd, London, SE18 6ET
Led by dance teachers Birungi Kawooya, Judith Palmer MBE, and Mercy Nabirye immerse yourself in Bakisimba dance from the ancient kingdom of Buganda and create art in an inspiring African collage workshop for absolute beginners.
Get free tickets Or just turn up on the day!
Connecting Communities Dance Festival
Come to the full festival in October half term week to dance, reconnect. and come together again. Everyone's welcome!
Shows will run across the borough so save these dates now in your diaries, and check back here for event updates as we share them!
Carnival Caribbean culture dance
Monday 25 October 2021, 7 to 8:30pm, Greenwich West Community Centre, Greenwich
Street /Afro beat dance
Tuesday 26 October 2021, 7 to 8:30pm, Thomas Tallis School, Kidbrooke
Maximalist multi-themed dance
Wednesday 27 October 2021, 7 to 8:30pm, Slades Hall Community Centre, Plumstead
Gospel Dance
Thursday 28 October 2021, 7 to 8:30pm, Middle Park Community Centre, Eltham
The grand finale club culture immersive performance led by Taru Arts
Friday 29 October 2021, 7 to 8.30pm, `Beanfeast and Knight Gallery, Woolwich Works, Woolwich
Follow the stories of the dance groups, mentors, and workshops on our socials, Facebook, Instagram, and Twitter too, there's so much to discover!