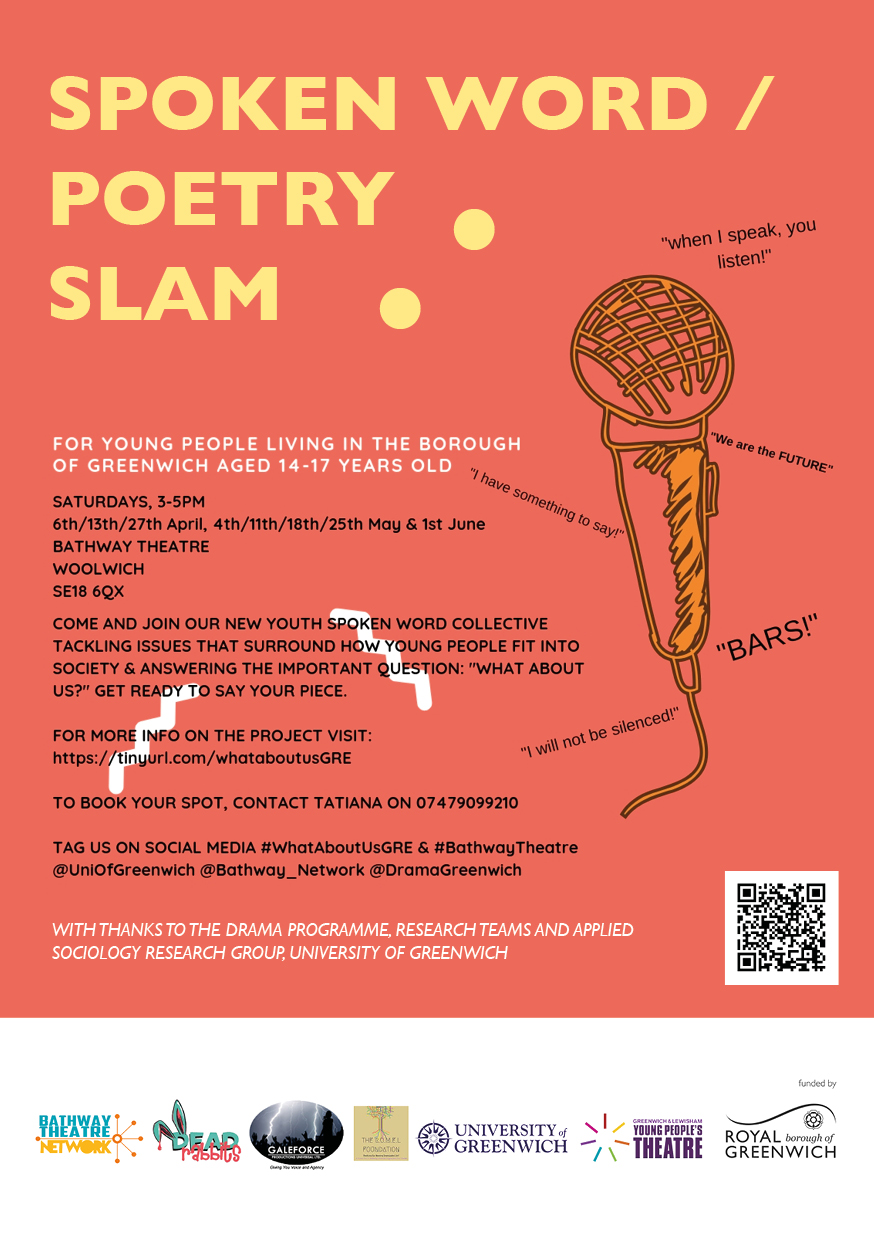 Date: 6th April 2019 - 8th June 2019
Every week
Location: Bathway Theatre, Bathway, Woolwich, SE18 6QX
Time: 15:00 - 17:00
Cost: FREE!
Come and JOIN our New Youth Spoken Word Collective, tackling issues that surround how young people fit into society and answering the important question "What about us?" Get ready to say your piece.
*** CALLING ALL YOUNG CREATIVES*** ***UPCOMING - FREE WORKSHOPS IN MUSIC, SINGING & SPOKEN WORD*** ***Starting Saturday 6th April 2019***
We are excited to announce that our NEW YOUTH SPOKEN WORD COLLECTIVE are running a series of 8 week Spoken Word/Poetry Slam workshops with SLAM performance for young people 14-17 years old in the heart of Woolwich, South East London. The workshops will be run by 90's rap artist Q-Tee and author of 'Melodies of a Ghetto Princess' and UK urban rap artist @MatrixGRN All workshops and final performance will take place in The Bathway Theatre in Woolwich. If you wish to join our NEW SPOKEN WORD COLLECTIVE or know a young person who does or want more information, please contact Tatiana Oriana on 07479 099 210 or email theromelfoundation@outlook.com In partnership with us and @bathwaytheatrecompany @galeforceproductions5 are running an 8 week programme of workshops in Music & Singing for people aged 16+. This will end in a final performance showcase. If you are an aspiring artist and wish to SIGN UP to this workshop please contact Erica Rolle on 07984 904 473 or email info@galeforceproductions.co.uk