Greenwich Get Digital: Loan and learn scheme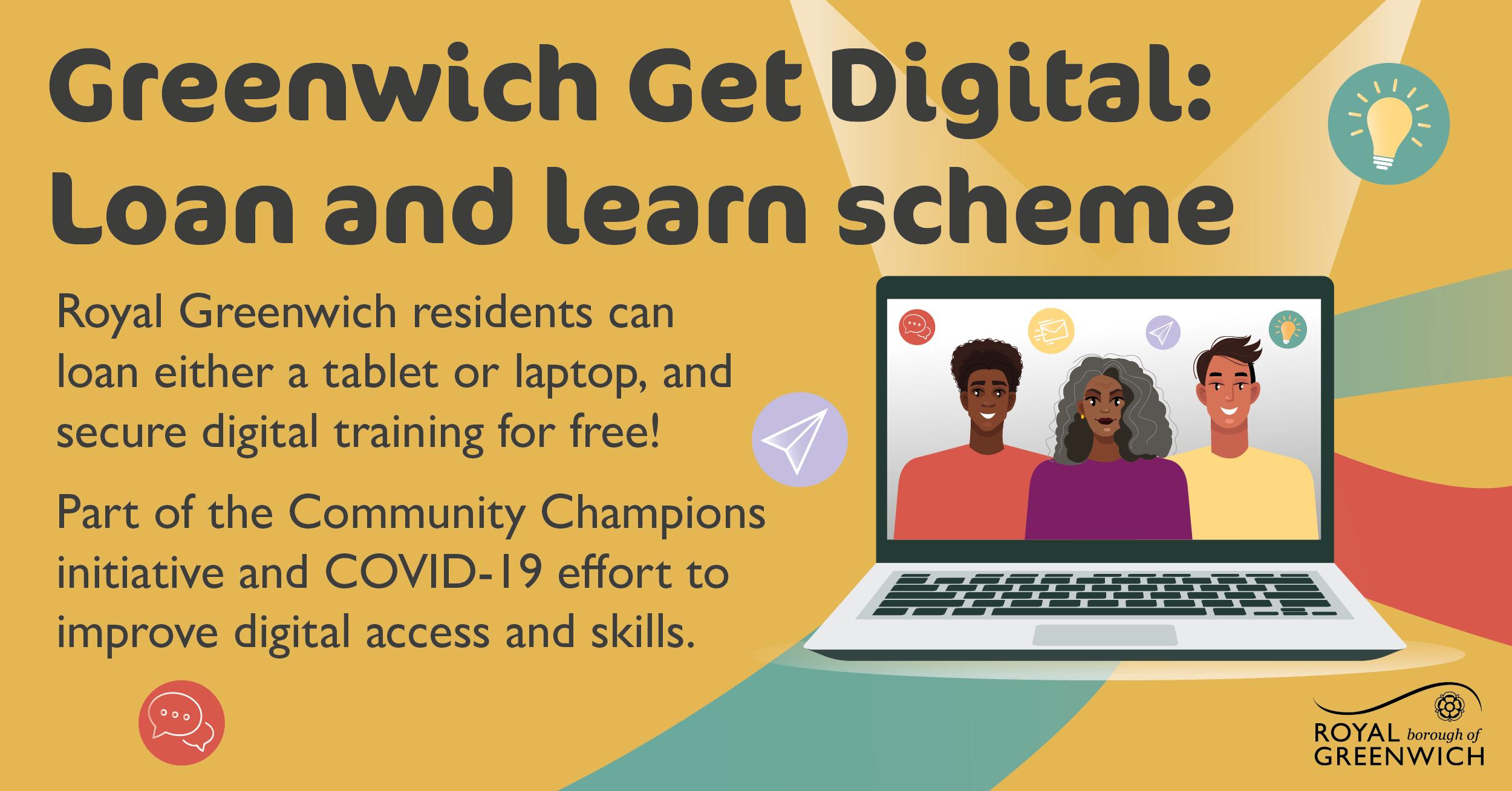 Residents who are most at risk from COVID-19 are receiving additional help to protect themselves, their families and communities thanks to £720,000 funding towards our Community Champions initiative.
The Royal Borough of Greenwich has launched a new initiative to provide residents who are at high-risk of COVID-19 with access to the internet, portable devices and digital skills training.
The loan and learn scheme will also give residents the digital tools and skills they need to get online and be more informed and reduce the misinformation about COVID-19 being spread.
The four elements of the initiative will enable residents to access up-to-date, trusted information about COVID-19 through:
A device-lending scheme: The Council is lending a range of devices to residents via local community centres and organisations.
A mobile data lending scheme: The Council is lending 4G dongles with 2GB data to distribute to local people who have no internet access at home and who are interested in using their own devices to get online.
A community WiFi scheme (due to rollout in October): The Council will install WiFi routers and boosters to improve internet access in community centres and other shared spaces.
Digital skills training to:
Community Champions – the Council will train its growing network of Community Champions so they're able to support other residents to improve their digital skills.
Community centres and groups – the Council will provide community centres and local groups with training materials to deliver to the residents who use their services.
How to loan and learn
Royal Greenwich residents can apply direct at local participating community centres and organisations (see below) to borrow a digital device and/or secure training and skills.
Each site will be provided with devices (tablets or laptops) which will be loaned out to individuals for four weeks. Similar to a traditional library, the equipment will be checked in and check out, with pre and post evaluation surveys to ascertain improvements on skills and training. The equipment will be remotely data cleansed and cleaned after each use, ready for the next person.
How to secure training
You can also apply to become a Digital Champion and secure free training:
Participating community centres and organisations