Recycling and waste collections
The Green, Blue, Black scheme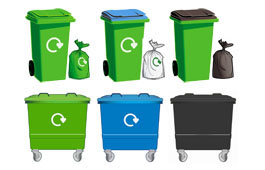 The Royal Borough of Greenwich is responsible for the collection and disposal of your household waste and recycling.
Depending on the type of property you live in, you will:
be provided with wheeled bins
or be provided with clear and corn starch sacks for recycling if your property cannot store bins (you will need to buy your own refuse sacks)
or have access to large communal bins
Follow the relevant link at the bottom of this page for advice specific to your property type.
Find your usual waste collection day
Residents can collect free recycling sacks at the following libraries:
You'll need to show proof that you are a resident of the Royal Borough of Greenwich and you'll be given two packs of 26 recycling sacks.
You can also order recycling sacks online.
Order or buy recycling bags, request a replacement bin
Recycle as much as possible
Recycling helps keep waste treatment and disposal costs down and enables us to maintain other important local services such as caring for the elderly and education. The recycling and composting rate for Greenwich is just under 40 per cent. However, with your continued good efforts we can work towards meeting the Government's national target of 45 per cent by 2015 and 50 per cent by 2020.
It is important to recycle as much as possible to reduce the use of raw materials and minimise waste going to landfill. Recycling uses less energy and emits less carbon than making products from new. It is also a cheaper waste treatment option than incineration or landfill.
Pages in Recycling and waste collections
You are here: The Green, Blue, Black scheme